Book Description

Publication Date: December 1, 2010

"This manual is a necessity for any unit attempting to combat piracy or undertake any maritime operation."
–Chief Chris Kyle, former Navy SEAL sniper/instructor

"I strongly recommend adding this book to your training resources."
–Sgt. Major Mark Spicer, retired British Army sniper instructor.

For the professional sniper, engaging a target on the high seas is one of the most challenging assignments of all. Erratic movement introduced by waves, vessel speeds, and engine vibrations; short, sudden windows of opportunity; and a host of unique environmental factors make the shot that much more demanding for even experienced marksmen.

Now, master sniper Fredrik Jonsson has written what is destined to become the classic manual on precision fire from seaborne platforms. Jonsson combines his vast experience in sniping deployment and instruction, specialized operations in troubled waters around the world, and competitive shooting to instruct dozens of specialized skills, including:

timing shots for wave harmonics
firing from one moving vessel at targets on another moving vessel
firing through shipboard glass
determining range and reading the wind in the tricky ocean arena
establishing a suitable shooting platform on a vessel at speed
conducting sniper-specific training at sea
maintaining weapons and optics in the harsh saltwater environment

The maritime sniper plays a vital role in combating piracy, providing cover for vessel- and GOPLAT-boarding teams, protecting high-value vessels, and many other missions. To hope that the sea will be calm the day you will have to take that crucial shot is simply not an option. Master the skills of seaborne sniping with Maritime Sniper Manual, called by John Plaster, author of The Ultimate Sniper, the "best thing out there on this subject."

Buy on amazon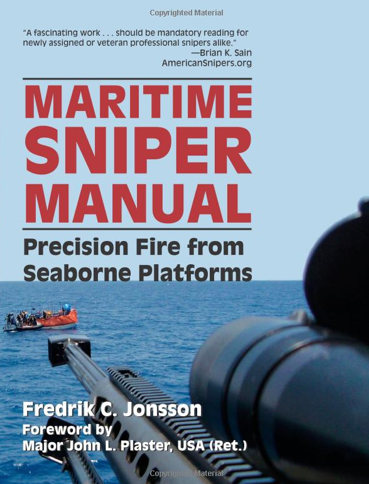 _________________
Close Protection Domain
Contact: info@cp-domain.com
Please make sure you
read the forum rules
before posting.


---
Permissions in this forum:
You
cannot
reply to topics in this forum